KOMADA Stacker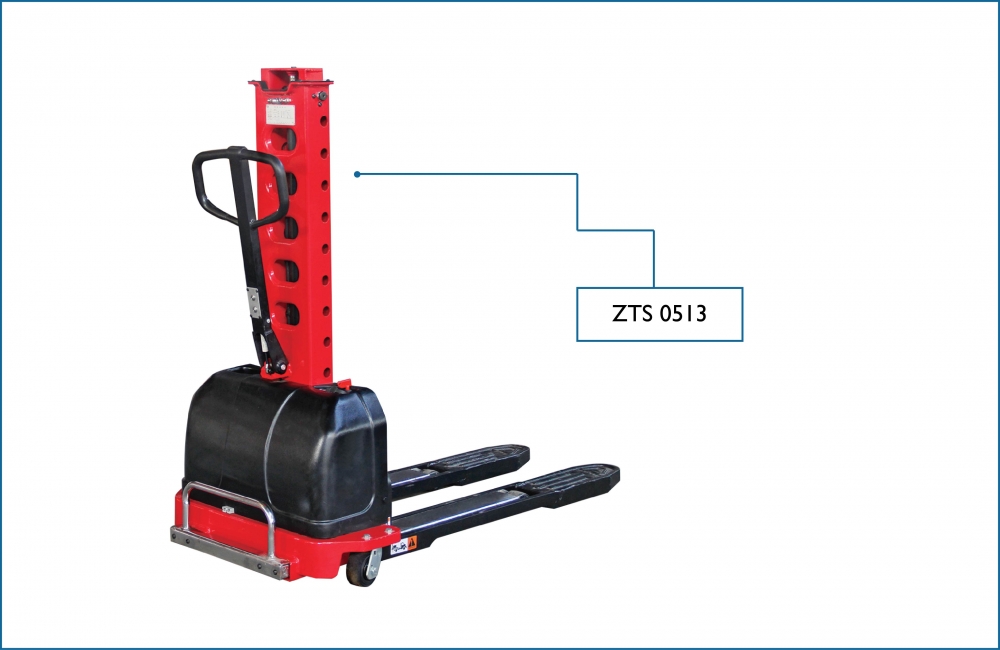 KOMADA Self Lifting Stacker
---
KOMADA Self Lifting Stacker
---
Specifications :
Product code
ZTS 0513
Base

Capacity

500 (kg)

Load center (C)

400 (mm)

Type of lifting

Electric

Operate Type

Walkie

Wheel

Material

Nylon / PU

Wheel Base (y)

860 (mm)

Front Wheel Base (b11)

380 (mm)

Back Wheel Base (b10)

670 (mm)

Qty of Steering/Bearing/Balance Wheel

2/2/6

Bearing Wheel

Ø70 x 60

Steering Wheel

Ø100 x 50

Balance Wheel

Ø40 x 26

Training Wheel

Ø30 x 26

Dimension

Min fork height

90 (mm)

Max fork height (h3)

1300 (mm)

Fork outside width

535 (mm)

Fork inside width

225 (mm)

Fork Length

1150(mm)

Single Fork size (e/s)

155/60 (mm)

Overall length (L1)

1600 (mm)

Overall width (b1)

790 (mm)

Overall height (h1)

1600 (mm)

Whole height (after tape file shelf) (h4)

2900 (mm)

Length of vertical surface to fork (L2)

1150 (mm)

Min turning radius

1120 (mm)

Performance

Lifting Speed (laden/unladen)

80/110 (mm/s)

Lowering Speed (laden/unladen)

80/80 (mm/s)

Electrical

Lift Motor

12/0.8 (V/Kw)

Battery Capacity

12/33 (V/Ah)

Weight

Battery Weight

10 (kg)
KOMADA Self Lifting Stacker -ZTS 0513

Advantage:
• Loading capacity: 500kg, 700kg, 1000kg is optional.
• Lifting height is 800 - 1500mm. At max lifting height, the loading is no reduce.
• Semi electric type self lifting stacker, the lifting and lowering speed is adjustable,
according to the user's needs.
• Steering chain auxilary device.
• Over discharge protection,m extending battery life.
• Sealed batteries free of maintenance, safe operation and no pullution.
• Explosion-proof valve design, down more stable and reliable.
• 700kg model adds the design of the normal to facilitate the lifting of the cargo.
• Add the design of the guide rail, makes pushing and pulling the goods more labor saving and convenient.
You May Be Interested In