Research & Development
Finite Element Analysis
TTF stresses on high quality products and services to our customers. In the design and analysis process, high quality control and analysis is placed in the company's design and production.
TTF invested a large capital stressing on CAD / CAE software to ensure the quality and continual improvement of the products.
TTF incorporates 3D modeling CAD for design and modeling capacity, reduces error in design and is easier to market. Also, this ensures the accuracy and quality of TTF's products.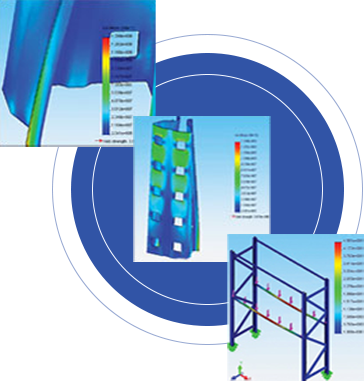 Computer Analysis
To ensure the quality of the products, TTF uses state-of-the-art Computer-Aided-Engineering (CAE) Cosmos Works to perform simulation and structural analysis. Cosmos Works incorporates the technology Finite Element Analysis (FEA) to study the factor of safety, deflection for the structure. Generally, FEA is a method of simulating physical systems, in the area of:
Static structural mechanics
Motion kinematics and kinetics
Heat dynamics
Fluid dynamics
Buckling analysis
Frequency analysis
Design optimization
FEA breaks down the model into millions of discrete elements, and then performs calculation on each element to provide a fairly accurate simulation and forecast of the design done.
The analysis is done with accurate moulding of the parts and assembly, and then loaded with the working load on the beams. Actual testing is done to validate against the analysis, and the result are found to be within 10% accuracy. The FEA tool aids TTF are accurately stimulate and predict every design. The result is provides a quality product to our customers.